To celebrate Crufts, we're having a closer look at the UK pet industry and its ever-changing packaging needs. In recent years the UK's pet industry has gone from strength to strength – big global players have been joined by a plethora of local brands. People are capitalising on Britain's love for pets – a love that compels consumers to spend over £4.6bn on pet products annually. The vast majority of that consumer spend goes on pet food and edible treats –  modern pet owners invest time and money into pet nutrition. With so much potential market share at stake, premium pet brands and pet food producers need to stand out with their packaging. Practical packaging solutions meet whimsical shapes and colours in the pet food industry – here's how your business can use packaging to delight and entice discerning pet owners.
Catering to the pet food market with the right packaging
In a recent industry round-up commentator Stefan Hartung perfectly summed up the pet food industry's packaging needs: "Old norms are getting thrown out of the window and break-through packaging stories are being told."
The pet food industry is booming, and with it so is its packaging. Product packaging is keeping up with the ever-growing pet product catalogue and as pet sales are shifting online; brands want packaging that creates a connection when opened at home, as well as packaging that has high retail shelf-impact.
The humanisation of pets has led to the emergence of distinct consumer groups within the pet industry – from owners who humanise their pets, to those who resist humanisation. It's important that any packaging you put out speaks directly to the right target market, using appropriate messaging. Pet brands can differentiate by appealing to different niche markets like the urban dog lover, or the pedigree dog owner with classic tastes.
Tin packaging is a great option for pet brands because of its premium, luxury connotations. At the same time, it's also versatile and portable and helps keep treats fresh for a long time. Tins can be easily customised and personalised to suit any specific breed, and you can launch different product lines with matching packaging.
The rise of the pet brand independents
Though big grocers still dominate the pet care market, there is an increased consumer-led desire for local brands and independents. Smaller brands can invest in a totally different type of product marketing, working closely with retailers and early adopters to spread product knowledge via word of mouth.
Part of that conversation is packaging – packaging that stands out amongst the more established brands by being unique. Clever branding can take a small dog or cat treat manufacturer right to the top when it comes to consumer choice, as long as you focus on developing a coherent brand story and strategy.
Social media sharing has also impacted packaging trends; now products have to look good at home and when in use. Pets are big online, and many premium pet brands work with online influencers to help spread the word.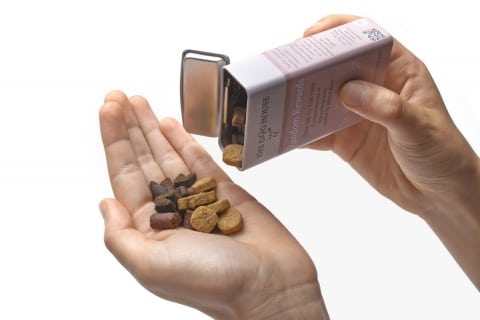 Small tins like the one we created for 'The Dog House Random Rewards' product are perfect for taking on walks, or keeping close by in the home or office. The tins' premium colours and muted branding are a perfect example of how animal themed packaging can be subtle and aesthetically pleasing, as well as practical!
Strengthening owner-pet bonds with your packaging
A recent Mintel found that a fifth of UK cat or dog owners would cut back on spending on their own food before cutting back spending on food for their pet – indicating that the diets of our pets are equally as, if not more, important than our own. This goes to show what a special bond we form with our pets, nurturing and caring for them as members of our family.
Great pet packaging is about strengthening the bond between pet and owner. Being there on special occasions like pet birthdays, Christmases, and weddings with your branded treats (and tins) will help you create lasting product memories. (People are increasingly likely to celebrate pet birthday and milestones at home, or offer a present to the family pet at Christmas).
You may want to develop product lines for special events and celebrations with bespoke packaging. Seasonal tins can help you capitalise on key gifting events, and tin is a great way to increase the value of a product as a giveaway.
Ethical and health-driven consumer choices
Sustainability, provenance and pet health benefits are important to consumers. The pet food industry is driven by a desire to make ethical choices, as well as a growing awareness of pet health. The development of pet probiotics and supplements means that owners can choose treats that put pet health first.
Consumers want to be reassured on product quality – quality is something that can be effectively communicated in packaging. Packaging for pet food needs to take into account hygiene, longevity, portion control, and practicality; as well as aesthetics.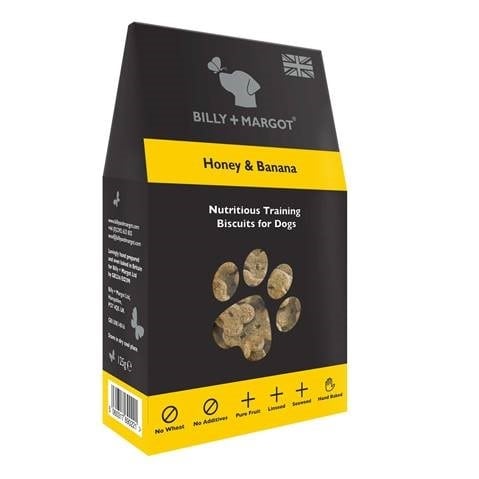 Image credit: Billy and Margot
This lovely packaging from British pet brand Billy and Margot shows how diecutting and whimsical shapes can help consumers get a sneak peak of products; building trust and brand consideration in a way that's both fun and practical.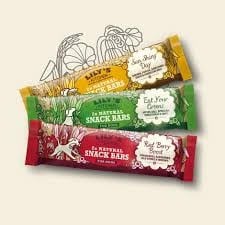 Image credit: Lily's Kitchen
Premium pet treats from Lily's Kitchen offer nutrition and sustenance, with packaging that echoes recent health trends from the food industry.
Pet treat packaging that's made to last
So how can your product stand out on that crowded pet treat aisle?
●     Be memorable and offer a packaging experience people won't forget in a hurry
●     Speak to your target audience with your messaging
●     Tell a story about where you're from and put your brand story at the forefront
●     Make your product value intrinsic to your packaging choices.
Need to find out more about what we can do for your pet food brand? Call us now on 01666 841 600 to discuss your pet food packaging ideas.